Think of a book (or movie, album, whatever) that you really love. Now imagine someone says to you, 'Let me take the time to read that book, and then let's talk about it. For an hour.'
Which, if you think about it, is an incredibly generous thing to do.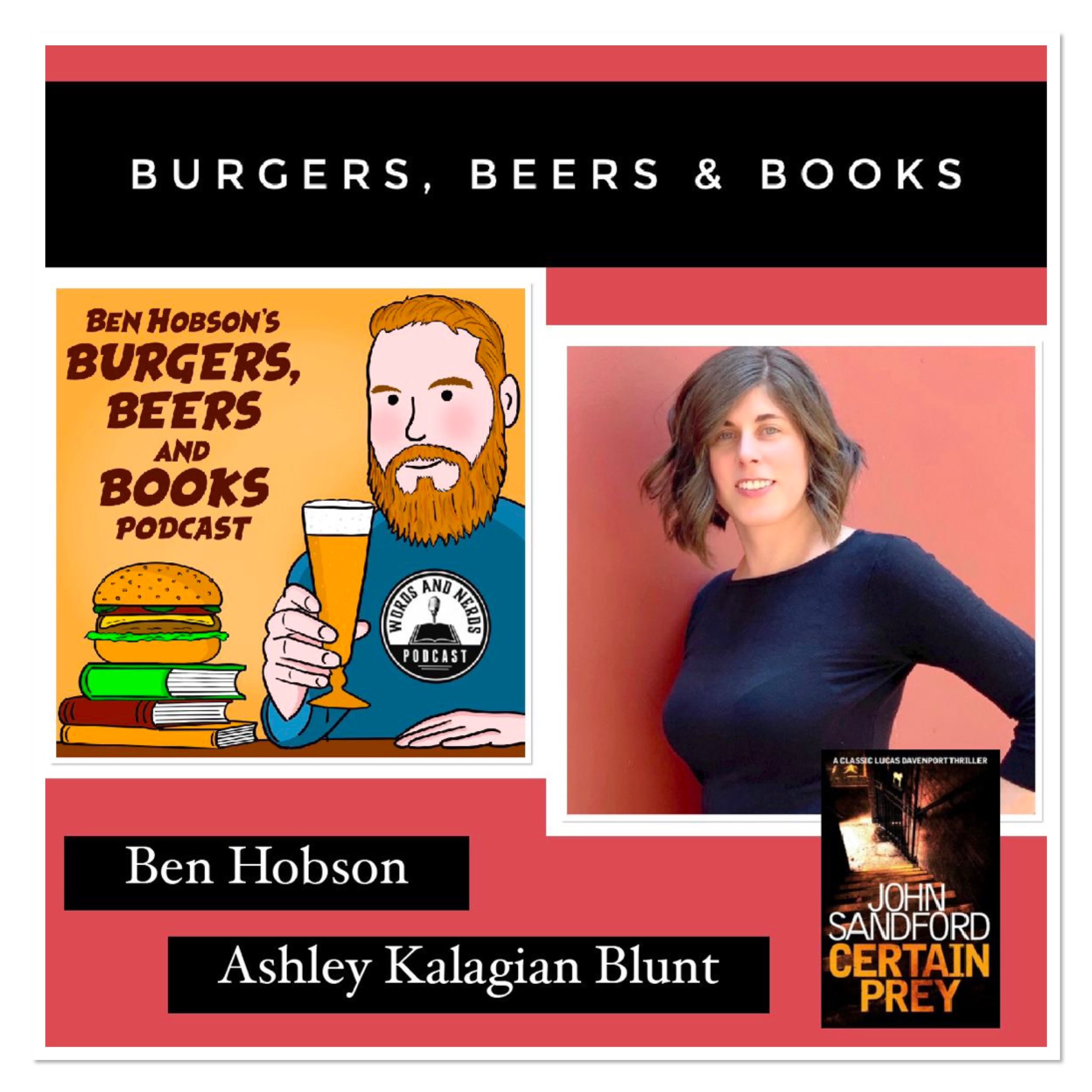 This is the premise of Ben Hobson's podcast, Burgers, Beers & Books. Or, part of the premise – the other bit is sitting around enjoying beers and burgers while talking about books. Clearly, Ben's a genius. He's also the author of Snake Island and To Become a Whale, and has a new novel forthcoming in 2022.
When Ben invited me on his podcast, I knew exactly which book I wanted to talk about – John Sandford's Certain Prey.
Since winning the Pulitzer Prize in journalism in 1986, Sandford has become the author of more than 50 books, most of them crime thrillers. His first book, Rules of Prey, introduced Minneapolis Police detective Lucas Davenport, one of my all-time favourite fictional characters.
There are now 31 books in Sandford's Prey series. I've been reading it for over 20 years, since I worked in a secondhand bookshop in Winnipeg, Manitoba, and would hole up in the back stockroom listening to audiobooks on cassette.
(I'm also obsessed with the series's narrator, Richard Ferrone, whose voice is synonymous with the characters for me.)
It was hard for me to pick a favourite for Ben to read. Ideally we would have read the whole series together and spent 31 hours talking about it, but I had a feeling Ben wasn't going to go for that.
I ended up choosing Certain Prey because I love the antagonist, Clara Rinker. She's a hit woman for the St Louis mob, and the novel centres around her burgeoning friendship with Minneapolis defense attorney and sociopath Carmel Loan.
I find this particularly interesting because not a lot of thrillers explore female friendship.
There were so many authors and books I could have chosen for this guest interview with Ben (a title from my list of great reads, for instance). I chose Sandford because I've recently realised that I don't know anyone else who reads them, so I've never really had an opportunity to discuss them in depth. (So if you're a Sandford fan, please email me!)
In this very fun interview, Ben and I discuss the different ways to approach a writing practice, the 10,000-hour theory of mastery, and Ben's Nana's reading preferences.
We talk a lot about Sandford, Davenport, and Certain Prey, and this is the only series I've loved for years.
I also get into the less-violent perpetrator strategy, which I used in my first book, My Name Is Revenge. I explain it in more detail here.
At the end, our conversation devolves into a Con Air love-in, although Ben and I disagree about the film's fundamental brilliance. For Ben it's Nicolas Cage and his Alabama accent, whereas I'd prefer a cut that was nothing but John Cusack as US Marshal Vince Larkin.
One correction to our chat: I said the original title for Winter Prey was The Iceman, but I've since learned that this was only true in the UK. In the US the title was always Winter Prey.
Books and authors discussed in this episode
– Destiny Disrupted by Tamim Ansary
– Song of the Crocodile by Nardi Simpson
– Lincoln in the Bardo by George Saunders
– Redemption Point by Candice Fox
– Will by Will Smith
– The Torrent by Dinuka McKenzie
– David Heska Wanbli Weiden
– Rachel Howzell Hall (check out my recommendation on this summer reading list)
– Anne Perry
– Patricia Cornwell
– Jane Harper
– Dervla McTiernan
– Lee Child
– James Patterson
– and My Name Is Revenge
Listen to episode 11 of Burgers, Beers & Books with Ben Hobson, a spinoff series from Words and Nerds with host Dani Vee.